So, the whole reason this website design biz was created, was to help muso's who for whatever reason – lack of time, low technical skills, busy lifestyles – get their very own website up and on their very own domain.
Such a tiny niche, but hey, I love what I do.
With a restricted income, most artists are unable to fund the $$ for a full website, so any local (or interstate) artist can now also get a shortcode link to their very own EPK (Electronic Press Kit) + PDF document with active links through the services provided by music. simply.
An Electronic Press Kit (EPK) is effectively a resume or CV for musicians, artists, bands, and DJs. An EPK is essentially your online media/marketing portfolio, designed to provide simple access to all your essential information.

EPK's are also one of the most professional tools to showcase your talents to the music industry. They are submitted as links to a landing page by email to labels, booking agents, promoters, venues, media, and anyone who would like to learn more about you and your music.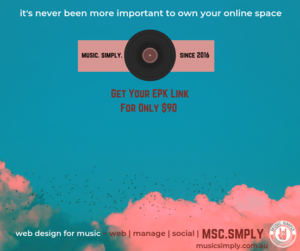 Therefore – for only $90 you can join the likes of Olivia Ruth, The Venture, Solios, and more with your own EPK!
Get amongst it, and flick me your deets by filling out this form – and you can have an EPK up within 24 hours.
JB