"Russ, Greeny and Chado's live sets are tighter than a Scotsman the day before payday. They'll have you frothin like a rabid dog as their Cowpunk Blues plant orgasms in your eardrums. If you haven't seen them live yet you really need a long hard look in the mirror and ask yourself what kind of sheltered life am I living?"
Brisbane Cow Punkers, Woodshed are coming to the Sunshine Coast!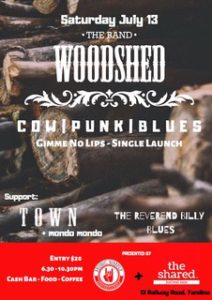 They have chosen one of the best live music venues on the coast The Shared in Yandina to release their Tele-Twanging Country Romp, Gimme No Lips, the first single from their upcoming album due out later this year.
Jul 13th at the Shared promises to deliver raucous, upbeat, cow-punk rhythms, as well as delving into the whiskey drowned sounds of Grind Waltz, with a side of early traditional delta blues in all its varying shades.
TOWN will be supporting, playing a set of genre bending grind-waltz, where sounds evoke imagery of dark alley ways and howling dogs, broken bottles and hearts, battles lost and treasures found. Where roads cross and paths meet, where the lights are dim and Whiskey is your Sin.
The Reverend Bill Martin will be opening the show in the only
way Bill does… if you love the original early 20th Century blues then Reverend Billy is a kindred soul, passionate about performing this great music as it was originally done.
Organise the babysitter coz you're in for a treat with fingerpicking, footstompin' oldtime blues, from THE REV, Grind Waltz Whiskey drowned TOWN, rounding off with the lords of Cow Punk – THE BAND WOODSHED
Tix $15 online – $20 on the door —> Tickets here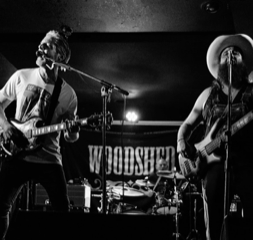 6.30 – 10.30pm, July 13th, The Shared 13 Railway Street, Yandina
Who are Woodshed?
An off the cuff drunken jam was what sparked the inception of Woodshed.
Precision and talent may have been lacking, however the chemistry between Chado (bass), Greeny (drums) and Russ (guitar) was obvious. With a love for blues, country and classic rock'n'roll, the trio set about honing their chops. In true "woodshedding" fashion, they hit the practice room, writing songs based around loose jams and impromptu noodling.
Fast forward 3 years, Woodshed fondly reflects on performances at The Bluesfest, Chinchilla Melon Festival, Airlie Beach Festival of Music, and playing alongside respected Aussie artists, such as Kingswood, The Delta Riggs and Good Boy.
2019 has Woodshed frothing. A debut album release planned for the end of the year will keep the fellas busy, but pumped to spread the Woodshed love. We look forward to seeing ya all gussied up at a gig real soon.
Love Chado, Greeny and Russ